We're thrilled to announce the launch of our bold new issue of Highsnobiety Magazine (available from retailers worldwide and our online store). With this week's FRONTPAGE story, we're diving into a world of eye-popping 'fits with our cover star, the supremely multi-talented Steve Lacy.
Steve Lacy shows up at Erewhon on Beverly Boulevard right on time in a vintage black tee, a flannel overshirt, and sunglasses, carrying a YSL bag. I can tell that he comes here a lot, as we both order from the hot bar and take a seat outside. He hasn't eaten all day because he has been busy working on looks for his performance at Coachella, so the gluten-free lasagna hits the spot.
This is the first time we have met, but I see Steve Lacy every single day on the corner of Melrose and Fairfax. He stars in a Farfetch campaign that has taken over a building, and he looks great in brown leather pants. I also recognize him from magazine covers and Instagram but, more importantly, as the Grammy-nominated guitar player in The Internet, the Odd Future–adjacent, egoless alternative R&B band fronted by Syd.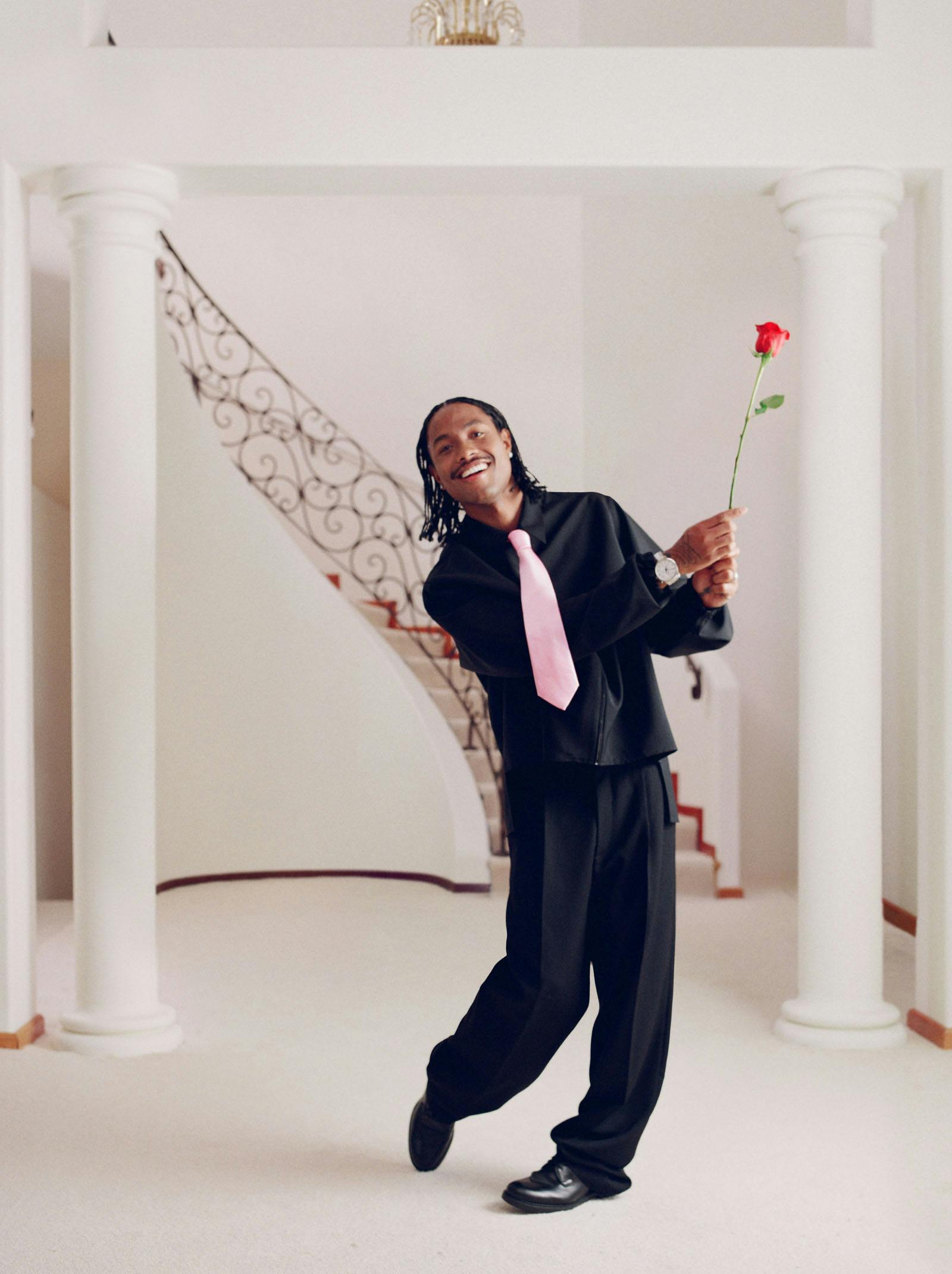 Lacy is an accomplished producer and writer who has lent his talents to everyone from Vampire Weekend and Kendrick Lamar to Mac Miller and Solange. These artists come to Lacy for a particular blend of genre-defying and densely textured songs that feel like they're from a different era yet entirely current. Lacy's last solo project, Apollo XXI, released in 2019, was a confident step forward from Demo, which came out when he was just 18 years old.
We finish an early dinner and head to the parking lot. The valet knows him by name and saves him a spot far away from the other cars to keep his new chalk-gray Porsche shiny and dent-free. Lacy cues up his upcoming record, Gemini Rights, on the stereo and takes me on a comfortable journey through LA, from Hollywood to Malibu and back.
The music is loud, and he is dancing in the driver's seat, pleased with how it all turned out. As the sun sets on his hometown, we chat about clothes, his ever-evolving process, relationships, being labeled "the weirdo guitar dude," and the never-ending search for music that absolutely knocks you out upon first listen.
CHRIS BLACK: Do you have your Coachella look done already? Are you working with a stylist?
STEVE LACY: It's all me. All of the time.
BLACK: That's a lot of shopping! But you don't mind, it feels like.
LACY: I do all my own stunts. I look at everything as a moment, right? For example, if I wanted to do a museum exhibit, and they wanted a collection of looks that I wore, I don't want to have to say, "Oh, actually, I pulled that look from this other person."
BLACK: Right. It's a very different animal when you're on some Bowie shit. You've got to have it.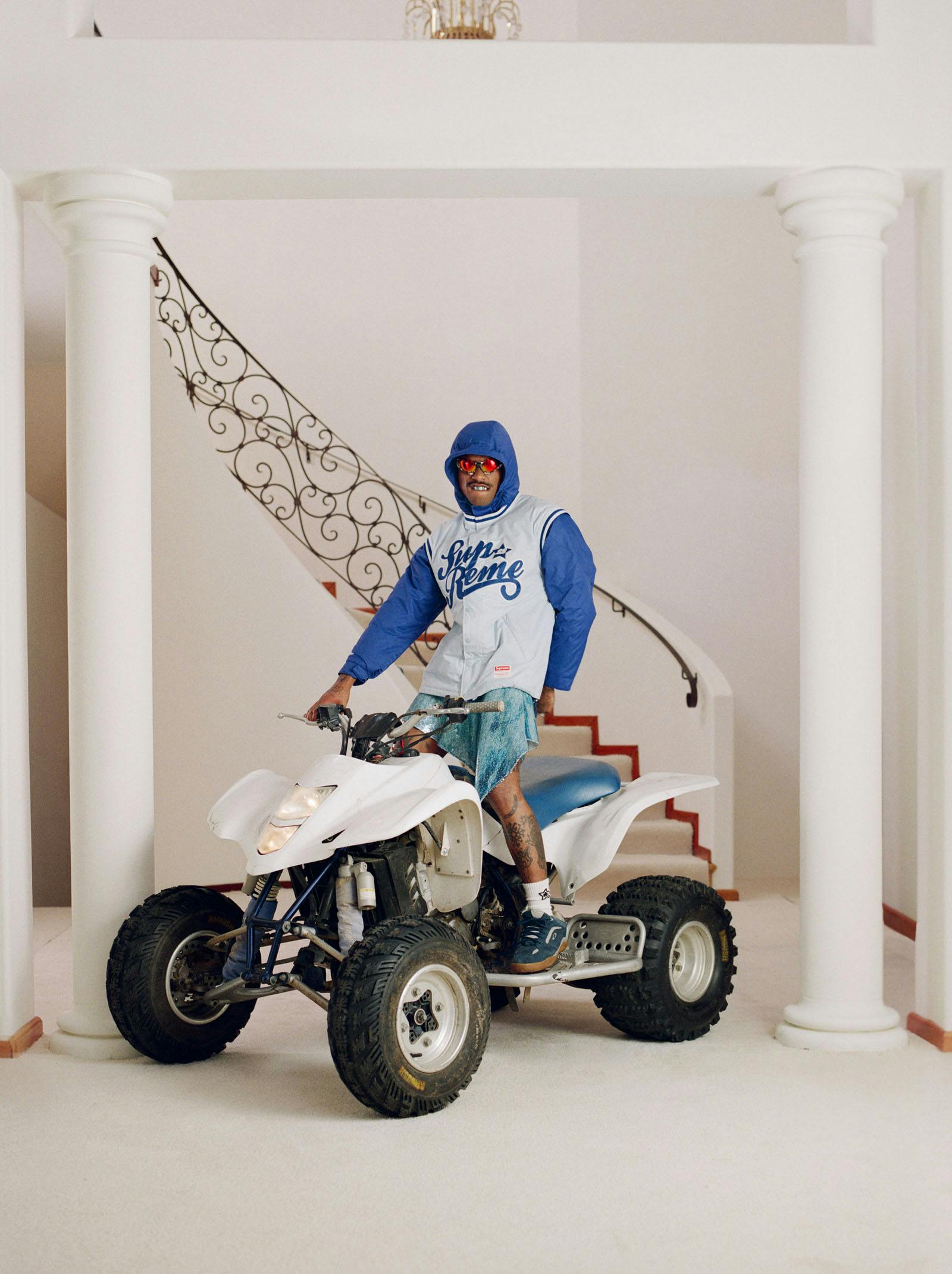 LACY: I do! Ideally, I would love to work with a designer and just make stuff together. That's the dream for me. I love clothes. They're my second love, after music.
BLACK: Were you into clothes in high school?
LACY: Well, I think it was a way to create my own world. Because I grew up in Compton, and I didn't grow up with all that. My mom sent us to better schools, so I would have these pieces and think, "Okay, how can I look like I live around here?" I used clothes to say, "I'm supposed to be here," because I didn't want to look like the house that I came from. I've always used clothes to speak without talking. You can portray anything or be whatever you want through your outfits. It's such a beautiful form of creative expression.
BLACK: That's what band shirts used to be. A signifier to other people.
LACY: Like a jersey.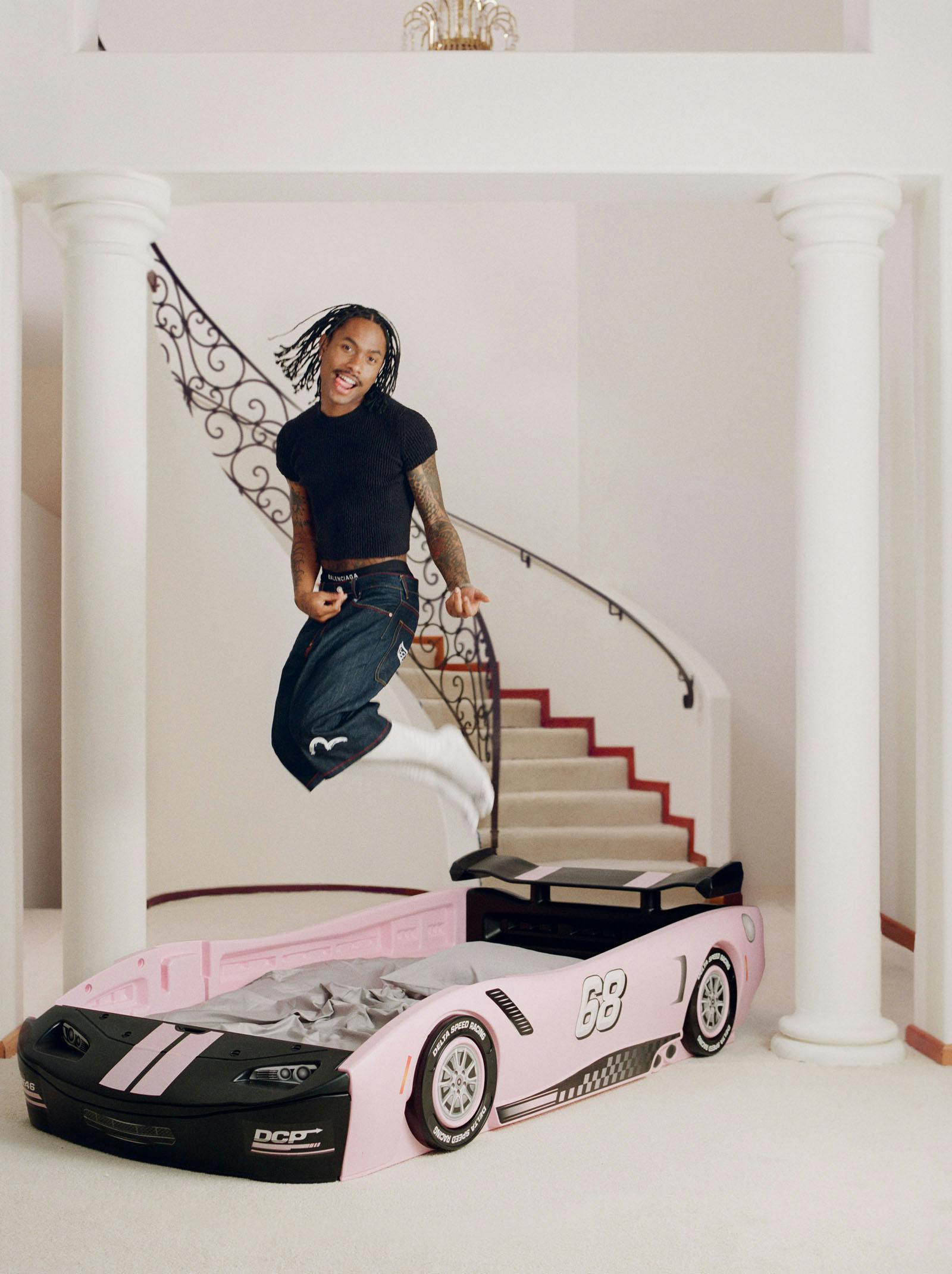 BLACK: It brings people together, but it also lets you create your own world.
LACY: Now that I don't have to dress to look like I'm from around here, I use clothes to create my utopia. This is Steve's world. Or even just, "This is how I feel today, right now."
BLACK: I find shopping in LA to be tough. Where would you live if it wasn't LA?
LACY: Oh, boy. I never thought about it. My family is here. But I do miss the bars that are open at four. I love that life, too. When I'm working, it's like one in the morning by the time I'm ready to be social. And if I'm in LA, I'm like… "Oh, fuck." But I can go to New York for a weekend. I don't have to live at the party.
BLACK: Living at the party is when the party gets bad. I appreciate the casualness here, but it's missing a little bit of... pressure is the wrong word.
LACY: In New York, everyone is looking at the pieces [they've got on].
BLACK: Yeah, they care because it's all they've got. They don't have a car to hide behind.
LACY: I remember in quarantine, I had all these cool clothes, and I was going to Erewhon Palisades looking like a fucking alien. I had to get those 'fits off somewhere!
BLACK: I think quarantine changed the way we dress. People will care a lot more moving forward because they didn't have to for so long. We're going back to a dressier style. People might feel compelled to put on a suit, or whatever their version of a suit is.
LACY: We're in the future now.
BLACK: So when did you start working on this record?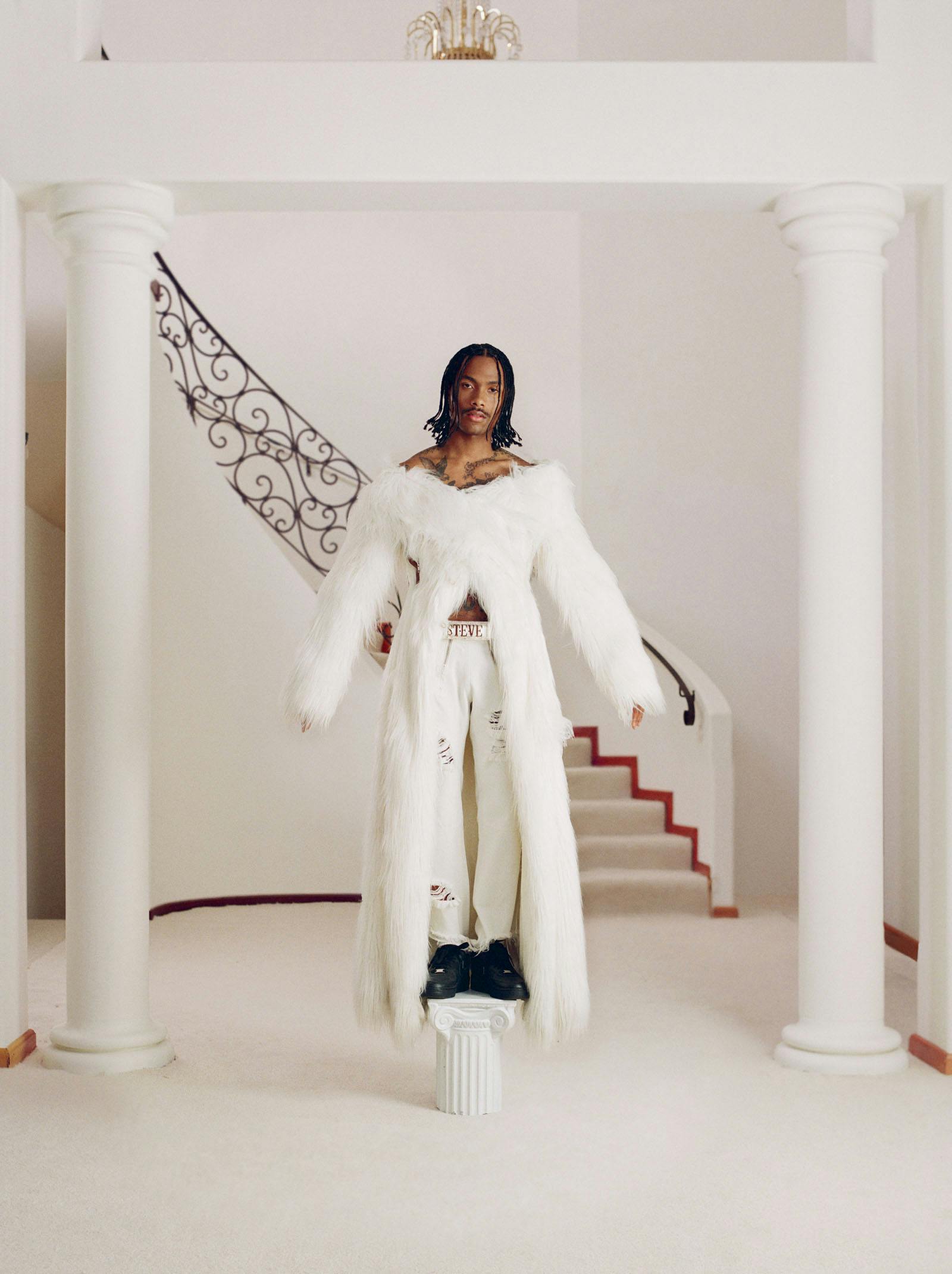 LACY: I feel like I've always been working on it. But I consciously started saying I was making an album about a year and a half ago. I think I had to get over the fact that it was my first time working in a proper studio. I love The Village. I found my room there, and it felt like home. That's my happy place, man. That's all I want to do.
BLACK: Were you going in every day?
LACY: When I first started, I was in for a couple of weeks, then a month, and then on the last run, I was there for two months straight.
BLACK: Do you think the studio helped from a structural standpoint? Or was it the new environment?
LACY: Well, both. I tried to make stuff at home. I'm used to home. That's where I worked on the phone or on a laptop, either at home or in different Airbnbs. But there was something about being in a professional environment, specifically to make music, that made me really take it seriously. This is the first time I've ever felt like I was an artist. So it's a lot of firsts, this record.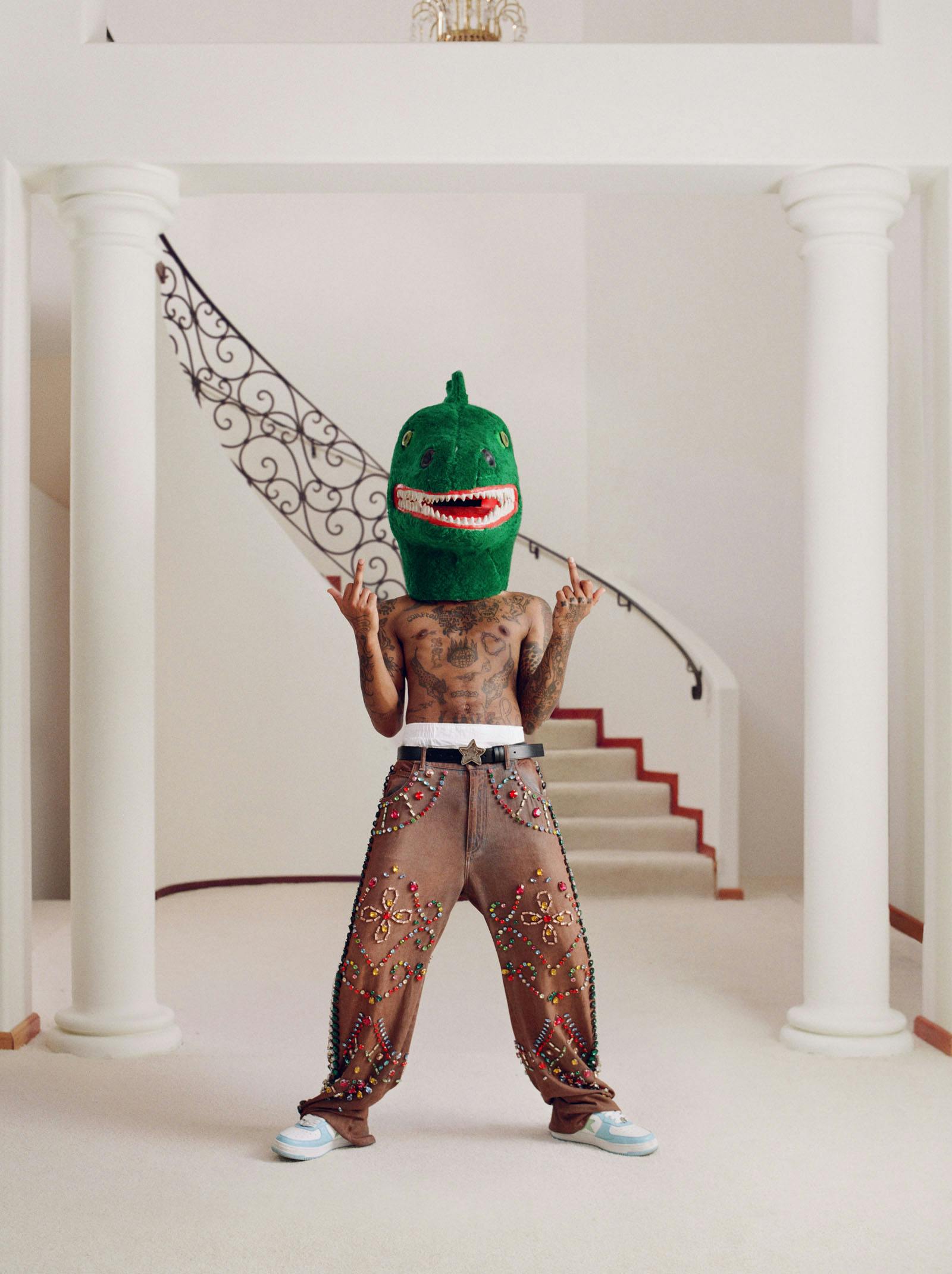 BLACK: Those trappings of a real studio make it feel different. It makes it feel real.
LACY: I think this album was me letting go of a certain process. I was trying to do the same things while also trying to elevate, but I can't do the same things if I'm trying to elevate! I was hitting walls. One of my collaborators, Fousheé, she's an angel. I just became such a fan. She's a really key part. And she'll never admit that, but she really, really helped. I was sitting there with so much doubt, like, "What am I even doing? What am I even saying?" I was just in a dark hole, creatively. And she would say, "Dude, you're fine. You're a great songwriter. You've got the hard part done." Then we started writing together, and our chemistry was so easy! There were days where we'd get super stoned and start joking like we were on a podcast together.
BLACK: When it's easy, it's almost surprising. Especially if you've been going through it and you're in your own head.
LACY: The album challenged me to grow on a personal level. It was like everything had to match up energetically. It was a crazy experience, because there was a lot going on. I think it's a really fun take on heartbreak. It has all the emotions, but it's almost joking about it.
BLACK: That's the best way to deal with things, in my experience.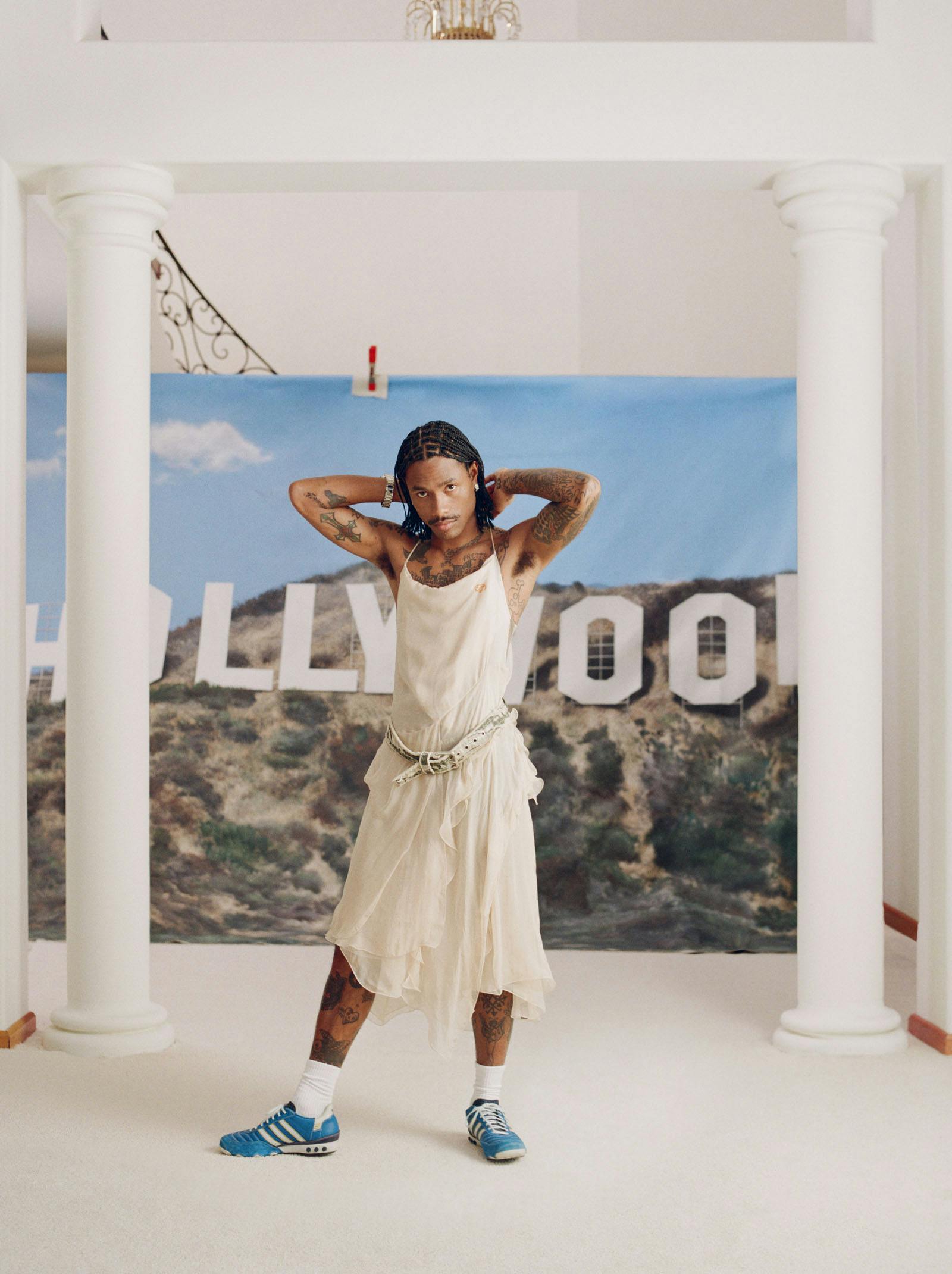 LACY: It's funny, though, because I went through this process of talking about it and being in my emotions. But now, me and the boy who inspired the songs, we're kind of back — which is funny. I played him the album yesterday, and I was like, "Okay, so if anything hurts, just tell me, and I'll let you know exactly what I meant!" It was nice, actually. He's unhappy that it took so long, but I genuinely needed that time.
BLACK: That's the perfect ending to the story, considering all it took to get to that point. There's proof that you needed the time. There's a final product you get to release into the world.
LACY: I had to get my spirit right. I think there were things that I couldn't do with someone, personally. For years I would put that off and just work.
BLACK: Relationships are more complicated than anything else we've got to do. Maintaining one, especially in the business you're in and being the age you are, is challenging for so many reasons.
LACY: I think that because of the space and everything that happened, I can see him for real. Before, I was just so paranoid, thinking people were with me for the wrong reasons. But I was really questioning everything because I didn't have that feeling for myself.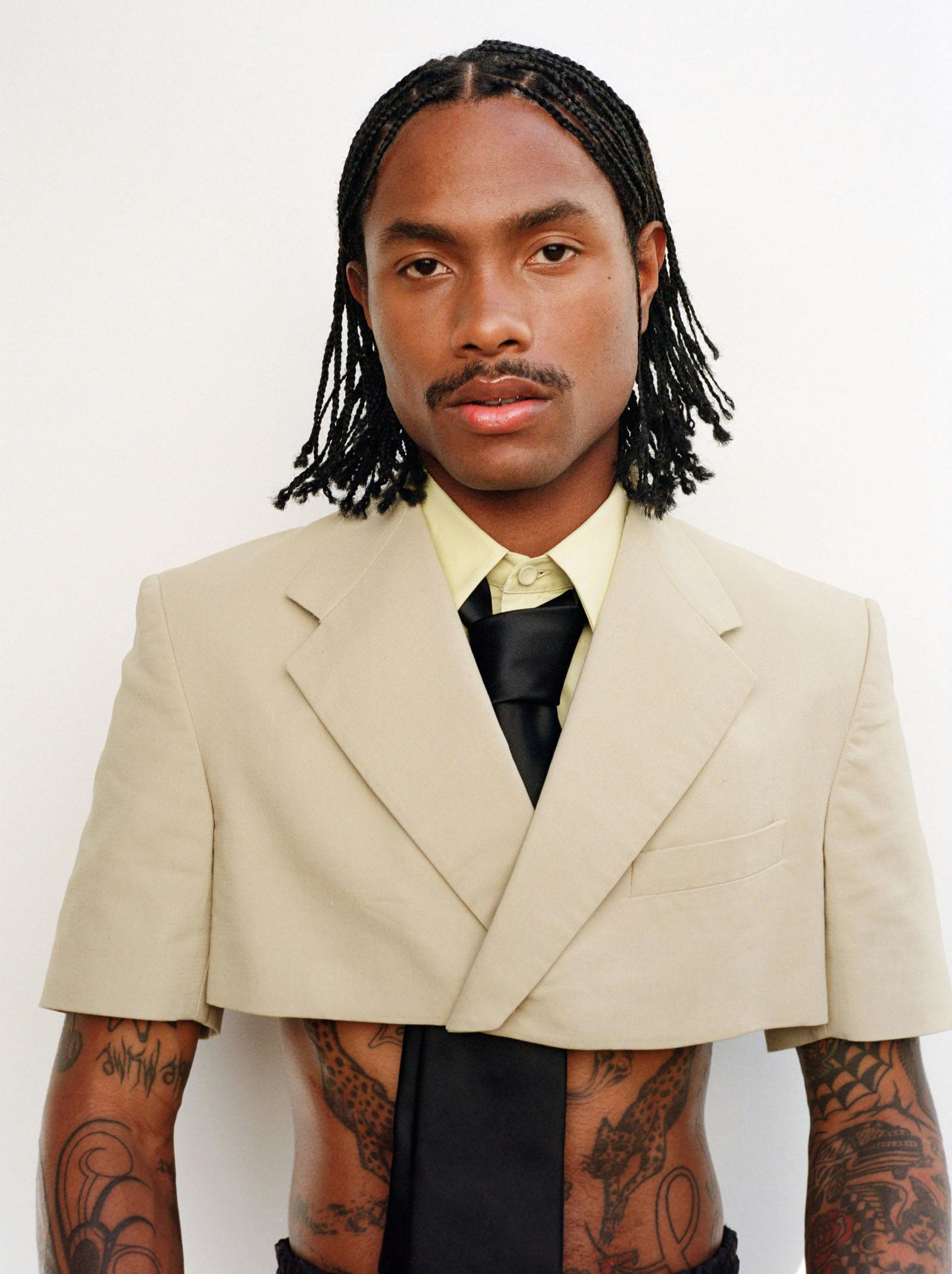 BLACK: You didn't have that inner confidence to understand why someone would be with you for the right reasons.
LACY: I didn't. I was just so weird and all over the place. I'm grateful now that things are in a good place, and I feel like we've both worked on ourselves, as difficult as it was. Going back to the record really helped me, because I'm fucking 23 and it's so easy to self-destruct when shit gets crazy. But I didn't. I was in the studio. I was focused on processing it, not running away.
BLACK: We all come to that at different points, but I'm glad you arrived there when you did. This seems like it's been a good couple of years for you.
LACY: I've been having heavy moments of gratitude. I'm blessed that I get to live my life as myself and not for anyone else but myself. What more could I ask for?
BLACK: Sometimes I walk outside, and I'm like, "Man, it's good." It's just good right now. There's nothing better than that, because it takes work to get there. That feeling is earned.
LACY: And the timing couldn't be more perfect. I feel so confident, and I've never felt this way about anything I've ever made. I think people are expecting something musical and cool, but I don't think anyone is prepared for the level that I'm bringing to everything. Production, lyrics, sequencing — I put real thought and real energy into this shit, and it can only pay off. I took my fucking time, blood, sweat, tears. And I'm not saying I have the perfect album, but it's probably the truest shit you've heard all year.
BLACK: Honestly, the confidence is refreshing because it feels like it's something you had to work for. When confidence like that comes from a real place, I want to see you win.
LACY: I had to find my confidence in being respected for how much I care about music. That's ego-less confidence. It's not fake confidence that I have from "success." It's confidence from the respect of people that I love and admire.
BLACK: When you find out somebody that you really respect enjoys what you're doing, there's no better feeling. Money is money, but respect from people you respect is the ultimate.
LACY: This album has taught me so much. Specifically that it's not scary to let other people into the process. You don't lose the purity. You don't lose your sound. I think many people sound great, and their music is great, but you don't know anyone! I want to know you. I want to feel like I'm hanging with you.
BLACK: I spend a lot of time listening to new music and trying to find something that really speaks to me. Every once in a while, you put something on that floors you, and it's all worth it.
LACY: I have to constantly be searching. Because the shit I like does not come in bulk. There are moments where I find a really fucking good song, and it just fucks me up because I can't find it again. I love being a creator because I can make something where that keeps going. It's like a thread that you leave for somebody else to sew.
BLACK: That's a great way to look at it.
LACY: I can continue a thread that someone started and then leave my own thread that someone else starts from there. It's beautiful to share. The way inspiration flows through me is very organic. I think with this record, you can hear it. I just love music. I care about this shit with my whole life. I'm not remaking it. I'm not putting on a song at the beginning of a session saying, "I want to make something like this." What I do is pure expression! It's an interesting time where I finally feel like there's a place for me. Before, I felt like my shit was too weird, or I was too weird, and no one would understand. I'd just be this weirdo guitar dude. But now everything has evolved, and it's time for me to be like, "There's a space wide open… Am I ready?"
Head here to get a copy of the new issue of Highsnobiety Magazine.