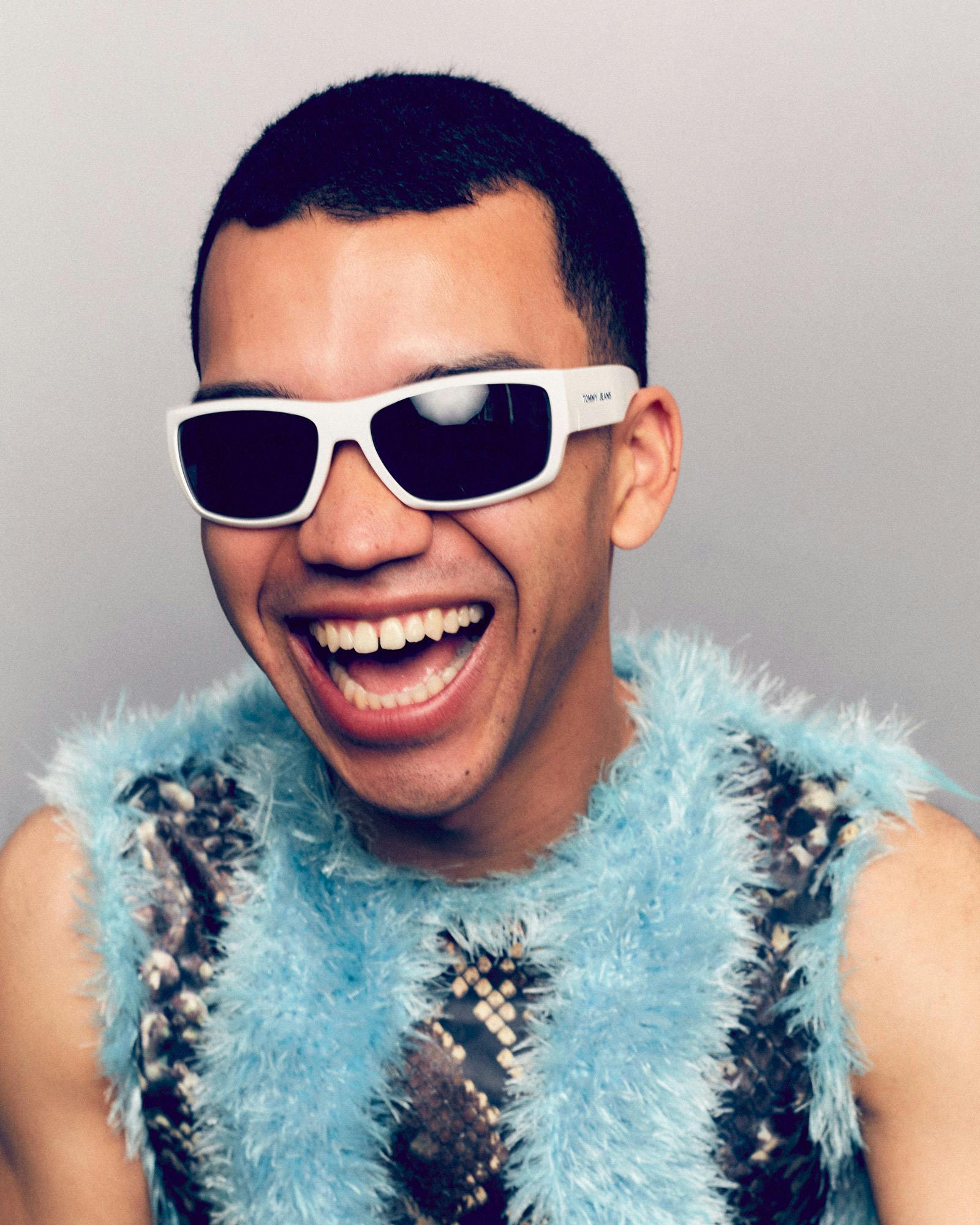 This week's FRONTPAGE finds us chatting with one of Hollywood's most promising young stars – the supremely talented Justice Smith, an artist who finds acting akin to "oxygen."
Somewhere in Los Angeles, Justice Smith is laying in bed. The 26-year-old actor has his camera off, a decision he made for press interviews at some point in the pandemic. "I have a healthy amount of social anxiety, so I feel like doing things remotely gives me a little more control," he explains. "I remember doing interviews in suits and just thinking, 'wow, I feel so tired!'" The expectation to "pull up" – to look smart, polished, professional (whatever that means) – began to weigh heavily. "When I'm trying to do that, I'm not being myself," he continues. "I'm being a manufactured version of myself, which isn't fair to me, you, or the people who'll read this. If I want them to get to know me, I should let them get to know me and not who I want them to think I am."
Now, he talks to press primarily on his own terms; a decision to put his own comfort first that has seemingly paid off. Over the course of an hour – an unexpectedly generous time-slot for a Hollywood star – he cracks jokes, goes on long, endearing tangents and pauses regularly to give nuanced answers. His range is clear, too: Smith is as happy talking about Wordle ("I lost the other day. It infuriates me more when the word is easy, that's more upsetting than when it's some 19th century shit I've never heard of!") as he is comfortable discussing institutional barriers to the arts.
This conversational range should come as no surprise; Smith's range as an actor is a regular topic of conversation on social media. He rarely posts himself anymore (he uninstalled the apps earlier this year and unfollowed everyone apart from @yung_pueblo, a "high-minded writer and poet"), yet he's still racked up a die-hard fanbase and earned blockbuster movie roles. He recently reprised the role of Franklin, a systems analyst and dinosaur rights activist, in the upcoming Jurassic World: Dominion.
Smith is advised to share more online, but he chooses not to. So far, his promotion for the upcoming movie has included a quote-tweet of the trailer, with the caption: "im in this. go see it." "People tell me I need to do this shit," says Smith of the pressure to post, "but I can't have this constant stream of other people's lives. It just breeds comparison."
As far as biographical details go, there's plenty out there. Smith was born and raised in Anaheim, California by two musician parents – that's common knowledge. He's the fifth of nine siblings, one of whom – Cameo Adele – is a talented musician in their own right. It might sound like an idealistic, bohemian upbringing at first glance, but Smith understood from a young age what it means to struggle. "My mom worked five jobs to pay for my acting classes and headshots," he tells me. "When she got fired from a bunch of those jobs, she ended up working as a janitor in our apartment complex. There were times when I had to get the bus to Los Angeles from Anaheim for auditions, but usually she drove me and helped me learn my lines. I'm so privileged in the sense that I had family support. She's amazing, she really put in the work."
Despite his early interest in acting, Smith was an introverted kid. "Matilda was my favorite book," he recalls. "I think because it's about a young person, who reads a lot and gets powers from reading, and it's about someone who doesn't belong." He pauses, adding a caveat. "Well, she was insanely abused in the book – that's not my story! But I did relate to that idea of feeling special."
Smith wrote a few scripts and stories of his own throughout his childhood, too. "Shit, that's a deep cut," he laughs when I ask him to expand. "The first story I wrote was about this kid who gets sucked into a cookie jar, and then it turns out there's a sailor in the cookie jar too, because why not? I was living my little Alice in Wonderland fantasy!"
Video games were another "safe space," specifically, open-world titles which allowed him to create his own destiny. "My all-time favorite game is Dante's Inferno, which is where you descend into the depths of hell to save your wife. I love Biblical lore, especially the seven deadly sins." This die-hard gaming fandom recently came full circle: Not only will he star in an upcoming movie based on Dungeons & Dragons, Smith lent his voice to an all-star cast for the cinematic, choose-your-own-horror game The Quarry. "It feels like I'm honoring my younger self, who sought so much solace in games," he muses. "It's like I'm paying my respects to my inner child."
The common theme binding these interests is escapism. "I wanted to be an actor because I was trying to escape my situation," Smith explains. "I grew up poor, Black, and queer in a predominantly white environment. Art saved me; acting was my oxygen."
Art school itself was a different story. "I faced a lot of trauma," Smith recalls of his schooling in Orange County, a near-constant Republican stronghold. "I would hold my breath through the day to get to the arts classes, where I could do a scene or a monologue." According to Smith, plenty of his classmates had "decided this whole art thing was just a fling while they were figuring their shit out," but he was dead serious about making it as an actor.
Throughout his teens, he landed steady work in commercials – including a shoot for Apple as well as a "Nickelodeon sketch comedy show that didn't get picked up. They fired me right before the pilot," he says with a mischievous chuckle. "I was like, damn, I wasn't that bad! When the show didn't get picked up, I was like 'ha, that's what you get for not having me on the show' – it would have been great!"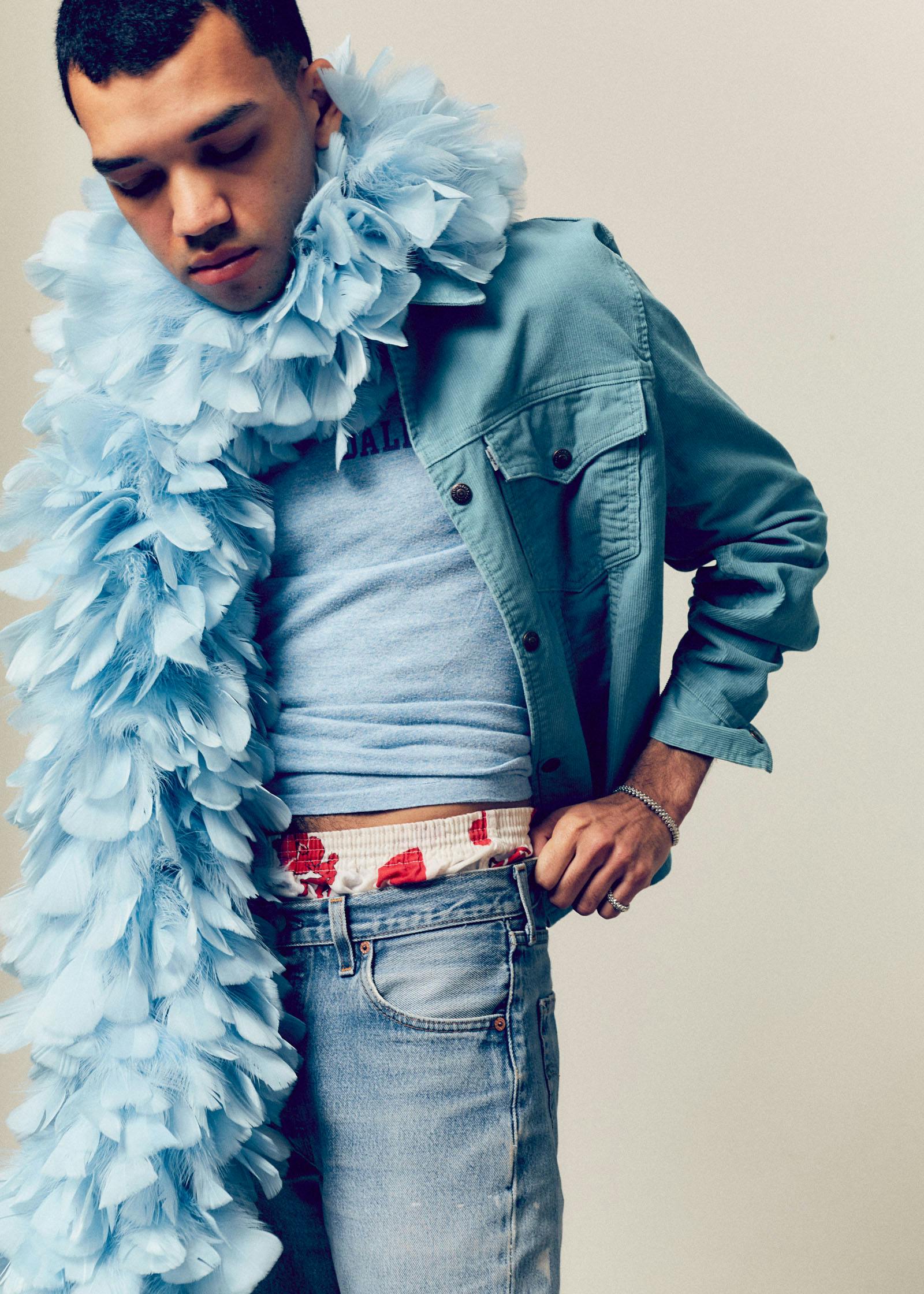 The Nickelodeon stars aligned soon afterwards, anyway. In 2014, he played the role of Angus in two episodes of The Thundermans, a sketch show about a superhero family trying to blend into suburbia. Much has been made of the fact Smith was fired after two episodes, but speaking to Smith, it seems it didn't strike him as too much of a tragedy. "They never really said why I was fired, I guess it's because I didn't know how to hyperbolize my performance. I was so married to stuff that was emotionally deep, but I think that experience taught me how to bring depth to a character. That show was like candy, but the role taught me to find the sustenance in candy."
The firing didn't necessarily scar him, either. "I never really saw it as my first big thing, I think because it was such a small part. I didn't feel celebratory when I got it, maybe because I knew I would end up doing bigger and better things."
Within weeks, his internal premonition was realized. Soon afterwards, he landed the role of Marcus in Paper Towns, a behemoth rom-com which grossed more than $85 million worldwide. "I sat on my couch while my mom went outside to tell all the neighbors I got this movie," Smith recalls. "It was the first time I had ever cried tears of joy. I remember specifically thinking this was a new feeling, this feeling that all my hard work and diligence about trying to do this as a career had paid off. I had been dropped by agents, I had been fired and I had heard 'no' endlessly. Paper Towns was so validating. It felt like all of those prior challenges were just tests to see if I really loved acting."
Quickly, the acting credits began to stack up. In 2016, he landed the role of Zeke – a fiercely intelligent, determined teen – in The Get Down, which landed him a coveted profile in The New York Times and, in 2017, a place on Forbes' 30 Under 30 list. The floodgates had busted open, and the roles came thick and fast.
All the while, Smith was learning to question his own tastes. More specifically, he was learning to challenge – and in some cases, dismantle – old-school notions of what constitutes a great movie. "I started getting more industry and becoming friends with young actors," he explains. "I started learning about film, rewatching film, learning about all these directors and black-and-white movies I was supposed to love, who were all predominantly white and from the '70s. People were like, 'this movie was so good,' and I was like, 'there are no Black people in this movie!'"
Smith was critical of how whitewashed the canon of "classic" movies is, but he still found himself "internalizing what everyone was saying was good. It made me pretentious a little bit," he admits. It wasn't until he started landing roles in Hollywood blockbusters that he began to reconsider. "It took me a second to be like, 'Justice, you're so full of yourself! You just want to act. That's what the kid in you wants.'" Working in Hollywood also sparked the "big revelation that art is art; once I managed to shed that pretension, I realized I had no right to judge someone else's taste or to judge what art is, you know?" That's not to say he hates the established "classics" either. "I'm talking out of my ass a little bit, because there are also some predominantly white, '70s movies that I love," he laughs. "But both things can exist at the same time. I watch some of these critically-acclaimed Oscar movies and I'm like 'Huh, I don't see it. I don't get it.'"
Looking at his filmography, it's immediately clear he's a fan of acting first and foremost. The Get Down is exemplary. In order to play the role of Zeke, Smith did some hardcore method acting to get himself into Zeke's head. He read books he felt the character would have loved and memorized core concepts he believed would resonate with the character.
His theater resumé is enviable, too. In 2019, he landed a leading theater role in Florian Zeller's trippy, deeply philosophical adaptation of The Mother, in which he starred alongside acting royalty, French actress Isabelle Huppert. Smith worked closely with Huppert, both to fine-tune his French – his grandmother was Québécois, French Canadian – and to bolster his theater skills. "I just watched her 'process' and I absorbed so much," he said to Vulture in 2019, describing Huppert as "electric."
These opportunities never came easy, and along the way, Smith has been forced to navigate an industry that still has huge institutional barriers. "I feel like we're seeing a lot of amazing artists, actors, musicians break into the industry who are clearly from working-class areas, and they're tokenized," he says. "They're amazing artists, but they're tokenized for their roughness." In his eyes, the industry points to singular examples of exceptional, marginalized talent to exaggerate its progress. "It's like, 'Look how much diversity we have! Look how many people we're letting sit at this table!' Yeah, but you're still viewing them from your perspective because it's you that owns the house. You have all these house rules that we don't have in our houses, yet we're all expected to be held to those same standards."
It's often the case that marginalized artists are expected to be happy with scraps, but Smith has fought to retain control of his career. "I'm learning how to say no to things," he explains. "I was at a place where I was saying yes to things I didn't want to, or I was challenging my own ego by doing some things just for money. Now, I'm at a happy medium. I can say no to things that would make me money, because I didn't start acting for that reason. I really felt this was my passion, my purpose." It's this line of thinking that keeps him – albeit sporadically – on social media. "It helps me make money on the side if I can post something for a brand, or something like that. Having that option means I can take care of my family while also following my heart on the art side rather than making choices that are solely money-driven."
A pure example of this came in the form of last year's excellent Genera+ion, a show about queer youth navigating life in their conservative surroundings. "I love that show," says Smith, who played the role of Chester, a confident, no-fucks-given, openly queer student. "I think it'll become a cult classic down the line."
Genera+ion was cancelled after just one season, but it did the unthinkable by allowing queer characters, including queer characters of color, to play starring roles rather than being reduced to "best friends" or comedic relief. No spoilers, but the show ends with a moment of unexpected joy for Chester in a poignant rooftop scene. "That scene was powerful for me," he recalls. "I was going through a lot as an actor during that show, because I felt I wasn't able to emotionally connect with some of Chester's moments in the way that I wanted to. I was putting a lot of expectation on myself, which is always a losing game. I remember when I shot that scene, it wasn't this grand, joyous moment of 'Wow, that's the end,' because it was the first scene we shot that day! But I do remember really putting myself in Chester's shoes, and feeling connected in a way I hadn't throughout the entire show."
The show sowed the seeds for more queer representation moving forward, and exemplifies the kind of passion project Smith is keen to pour his heart into. He's also genuinely unpredictable; one minute he'll be on Broadway, the next he'll be lending his voice to an animated movie.
Last year, he expanded yet again on his resumé by releasing "Bed," an introspective debut single with slowly-building production and deeply poetic lyrics. It was released with little to no promotion, yet it's still racked up more than a quarter million plays on Spotify alone. It's taken a while for Smith to feel confident enough to put his music out, largely because his parents are both singers themselves. "They would very much criticize the way I sang growing up, even though I was very much a baby child," he laughs. "I had to go into my psyche and reprogram that negative self-talk around my music." Smith had always written songs, but it wasn't until he teamed up with his friend, actor and producer Giullian Yao Gioiello, that everything came together. "He really heard me out on the way I wanted my music to sound, so we just sat together in his room and painted this story together." It's likely not the last track he'll release, either. "I'm just doing it for fun, but I really feel like I have something to say with music and I want to say it." He pauses, then laughs. "Maybe it's just because I'm a Leo! Honestly, I don't know."
As for the future, Smith is keeping it relatively low-key. Although Jurassic World: Dominion, The Quarry, and Dungeons and Dragons are all released relatively soon, Smith himself has been using his downtime to search for a house to buy in Los Angeles. There's one more big bucket list career goal, too: "I really want to do Hamlet," he exclaims. "I'm serious! I wanted to do it while I was still young, because Hamlet is 19 but whenever we see him, he's being portrayed by a 45-year-old. That's fine and they're always amazing, but the fact he's 19 is a big part of the story. I'm 26 now, but I feel like I still have some time." As we hang up, he makes a note to himself out loud. "I'm going to do it now," he laughs. "I need to put Hamlet on my vision board."