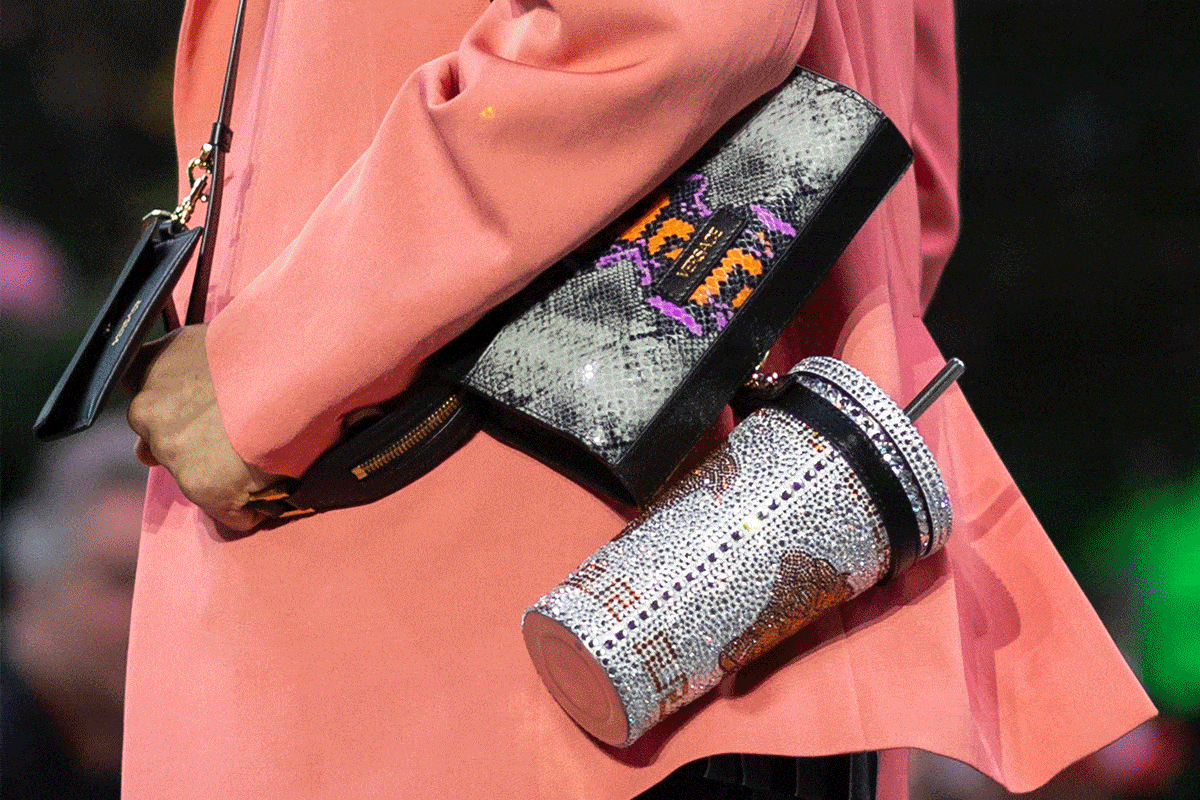 Every season, we all behold a massive onslaught of new product during the pageantry of Fashion Month. New clothing, bags, shoes, glasses, hats, toys, trinkets, apps, NFTs (barf), and all the rest, it never ends! So, we aimed sort the wheat from the chaff and call out a couple especially good bits from the Spring/Summer 2023 menswear shows held over the past month.
But, this being Highsnobiety, why bother doing the exact same thing as everyone else and simply celebrate the obvious stuff that everyone's already seen on Instagram? Instead, we selected some hidden gems and standout accessories that we glimpsed during the deluge of content.
Yes, we also loved Louis Vuitton Spring/Summer 2023 collection, JW Anderson's detritus, and KENZO's scholarly ambitions, but we only have so much time in the day and they can't all be bangers, even when they all kinda are.
Versace Medusa Travel Cup
Versace's blingy to-go cups have been around for a while, but they enjoy renewed relevance when set against fashion's Y2K craze. Paired with a velour tracksuit, Versace's crystal-encrusted chalice gives major "Britney Spears on a Starbucks run" energy — and there's nothing more early 2000s than perusing paparazzi photos of Britney and Paris clutching Frappuccinos. - Alex Pauly, Style Writer
I'm absolutely mad for sunglasses – obsessed, even. Always beady eyed on the look out for new pairs, I can always trust that Fashion Week will have plenty of drastic frames to feast my eyes on. Matthew Williams' Givenchy SS23 collection is...interesting, and these sunglasses are nothing short of insanity. They're giving Shark Boy & Lava Girl, Spy Kids 3, Ratchet & Clank, and a whole host of other early 2000s childhood obsessions. Honestly, I hate them, so much so that I can't help but love them. - Sam Cole, Style Writer
In a dream world, I'm really rich and I can afford Hermès. The Spring/Summer 2023 collection featured a handful of iterations of the label's Haut à Courroies bag, which is basically the men's Birkin (or Merkin, if you will). To me, there's something wildly luxurious yet casual about the bag, especially with its new line graphic, and it is one I'll spend plenty of time thinking about in the months to come. - Tora Northman, Senior TikTok Manager
Y/Project middle finger earrings
Y/Project is not only a master of trompe l'oeil but a purveyor of relatable moods. Glenn Martens's Y/Project SS23 middle finger earrings are a gilded attitude for those unimpressed fashionistas who feel their fleshing fingers just aren't enough. Style tip: pair with an RBF for a complete look. - Morgan Smith, Style Writer
Junya Watanabe MAN x Seil Marschall Tote Bag
This probably sounds like the least interesting collaboration in a collection full of good ones but hear me out. Actually, never mind, it totally is. But that's kinda why I chose it. Junya is so damn good at walking his menswear brand atop this weird line between workwear-y denimhead style and CdG fashion weirdness that even his tamer stuff sends me into fits. I won't buy this rubber tote bag branded with the logo of a century-old German manufacturer but I adore it for its idiosyncrasies. - Jake Silbert, News Editor
KENZO's Knit Tabi Socks
For me, the most important thing for an accessory is neither its look nor design, but ultimately its utility. I loved that NIGO provided various color options for the KENZO SS23 tabi socks, and in a refreshingly textural knit for spring. Sign me up for socks and sandals this summer — or better yet, socks and flip flops. - Elaine Lee, Features Editor